Today's featured product comes from Minnesota artist, Brenda Thour.   This cardinal is one of my favorites in her bird section, though she does such wonderful wildlife paintings it was hard to pick just one.
She has this to say about Mr. Cardinal: From an original sold mixed media painting by Brenda Thour of a cardinal sitting in a tree branch with pink flowers.
You can see all of Brenda's wonderful work by clicking on the link in the left hand menu and be sure to check out at all the available products that Mr. Cardinal is on.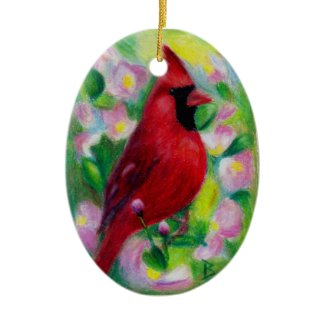 Mr. Cardinal Ornament
by
bmthour
Browse other
Cardinal Ornaments
Tags: birds, brenda thour, cardinal, featured product, gifts, ornaments, painting